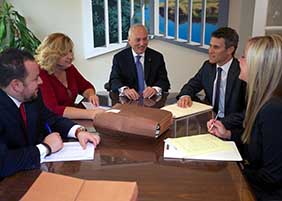 Traumatic Head/Brain Injury
$2,127,000 Accident. 7 year old boy with preexisting behavioral, cognitive, and birth defects sustains a severe traumatic brain injury requiring invasive brain surgery and resulting in permanent brain damage when he is a passenger in a motor vehicle collision with two semi-trucks.
$2,000,000 Accident. 25 year old female who sustained facial and head injuries, due to the negligent maintenance of the semi, when the truck's drive shaft dislodged and flew through the windshield striking her in the face, causing severe fractures and a severe traumatic brain injury.
$1,090,000 Accident Settlement. 55 year old man sustained a traumatic brain injury, shoulder tear requiring surgery and herniated discs of the lumbar spine when he was rear ended by a construction van.
$300,000 / Premise Liability. 54 year old man who sustained a traumatic head injury (loss of taste and smell) as a result of a defective restaurant chair that broke and caused the man to strike his head on the floor.
$96,587.96 Fault Jury Verdict. A jury awards damages for no fault attendant (nursing) care for a 66 year old man who sustained a mild traumatic brain injury in a motor vehicle accident.
Wrongful Death
$110,125.89 Fault Jury Verdict. Following a motor vehicle accident in which a 4 year old girl passed away, a 51 year old lady filed a lawsuit against her own no fault automobile insurance carrier, who refused to pay for no fault benefits, including psychiatric care and counseling.
Internal Injuries
$228,000 Negligence/Premise Liability Settlement. 58 year old man sustained intestinal and bowel injuries when a maintenance worker negligently ran a lawn mower over a piece of metal rebar. The metal rebar was negligently left behind on the premises by a paving company. The piece of metal impaled the 58 year old man in the stomach.
Orthopedic Injuries
$850,000.00 Liability/General Negligence. 52 year old postal worker injured when a bulk mail carrier was negligently rolled over her ankle by a trucking company driver, requiring multiple ankle surgeries, including a complete fusion and a diagnosis of Reflex Sympathy Dystrophy (RSD).
$325,000 and Fall Settlement. 54 year old lady shopping at a grocery store slipped and fell on a clear liquid. As a result, she sustained knee injuries including: a fractured patella and torn meniscus, requiring multiple surgeries.
$300,000.00 and Fall Settlement. 56 year old man slipped and fell on black ice on a airport tarmac while in the process of boarding a plane. As a result he sustained fractures of the tibia and fibula, requiring multiple surgeries, and causing a blood clot to travel through his heart to his brain ultimately resulting in a stroke.
$284,401.96 Accident Verdict. Following a rear-end collision caused by an off duty police officer, a 42 year old woman sustained injuries to her left shoulder requiring multiple surgeries. The at- fault driver denied being involved in the accident requiring the case to go to trial. At trial the Jury came back with a verdict in excess of the Defendant's liability insurance policy limits. The liability insurance company paid the verdict to protect its insured from the excess verdict.
Neck And Back Injuries
$600,000.00 Accident Settlement. 31 year old male who fractured vertebrae in his spine and a dislocated shoulder when he was struck by a drunk driver. He was unable to return to work and required significant medical and psychological treatment
$400,000 Accident Settlement. 43 year old flight attendant who was the victim of a rear-end collision. She sustained herniated discs in her neck that required invasive fusion surgery.
Spinal Injuries
$1,050,000 Accident / No Fault. 27 year old male who became a quadriplegic as a result of a motor vehicle accident. Thanks to Liss, Shapero & Mitnick, his no fault insurance company continues to pay for his 24 hour per day nursing care, medical treatment, home modifications, and handicapped vehicle.