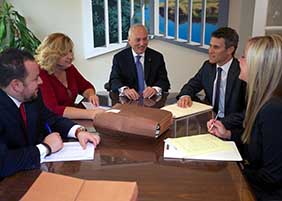 Life moves at a fast pace, but an ill-timed injury can bring everything to a screeching halt. If you find yourself hurt and unable to work after an accident, it is important to understand your right to personal injury compensation or Social Security Disability (SSD) benefits.
At Liss, Shapero & Mitnick, our Oakland County personal injury law firm provide personalized attention and skilled representation to injury victims in Royal Oak and Southfield and throughout Michigan. We have built our successful practice on a foundation of treating all of our clients like our own family and stopping at nothing to make sure they get the full compensation they deserve.
Injured due to negligence? Call 248-584-1300 Toll Free 1-855-LISS-LAW for a free consultation.
Ready To Assist With All Serious Injuries
We focus on obtaining the full compensation our clients are entitled to for medical expenses, pain and suffering, lost wages, and other damages. Our lawyers have experience pursuing claims on behalf of accident victims who have suffered common compensable injuries such as:
Spinal cord injuries, including paralysis
Back injuries such as herniated disks
Ligament tears
Shoulder injuries
Neck injuries
Whiplash
Knee injuries
Ankle/foot injuries
Broken bones
Anxiety/depression
Post traumatic stress disorder (PTSD)
Wrist injuries
Carpal tunnel syndrome
Permanent serious scars or disfigurement
Social Security Disability (SSD)
Have you been unable to work for a year or more as a result of the injuries you have suffered? You may be eligible for Social Security Disability benefits. If you have been denied benefits, you only have 60 days to file an appeal, so it is in your best interest to move quickly.
We Will Always Put Your Rights First
For personal attention from experienced attorneys, you can count on Liss, Shapero & Mitnick. Contact us today for a free initial consultation.