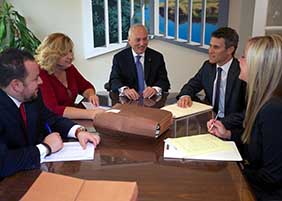 More Than 85 Years Of Personal Service And Outstanding Results
At Liss, Shapero & Mitnick, we have built our practice on a novel concept: we treat each client like we would treat a member of our family. Whether you have been injured in a car accident, been denied disability, or had a loved one suffer due to nursing home neglect, you can rely on us to put your rights first.
We derive strength from our team of attorneys, made up of professionals with varying years of experience and backgrounds in unique areas. We even have experience representing insurance companies -- insider experience we can put to use for you as we fight the insurance companies to secure compensation for your injuries.
Working together, our Berkley lawyers provide the utmost in personal service while taking on the negligent individuals and corporations responsible for the challenges our clients in the Southfield and Royal Oak area face. Our firm has deep roots in the greater Detroit area. With more than 85 years of experience behind us, we remain committed to serving injured Michigan clients for the years to come.
Metro Detroit Personal Injury Representation
Our firm's success is built on a foundation of achieving successful outcomes for our clients, who often need compensation for damages such as medical expenses, pain and suffering, and lost wages. We do a good deal of work with no-fault car accidents and Social Security Disability (SSD) claims, in particular.
Satisfied clients are the key to our continued business, and their stories are a great way to learn mor about the level of service we offer and the results we have been able to achieve for them during difficult times in their lives. See our success stories page to learn more.
The first step in getting the compensation you deserve is understanding your rights. Contact us for a free initial consultation with one of our Michigan personal injury lawyers. When you hire us to represent you in any personal injury matter, there is no fee unless we recover compensation for you.