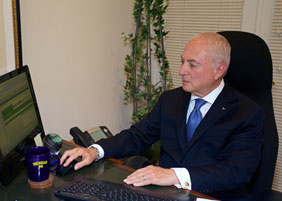 Auto accidents can happen at any time, causing potential catastrophic and life-changing injuries as well as property damage. They can also bring with them the hassle of dealing with insurance companies that resist paying a full and fair settlement for your medical bills and other costs. That's where we come in.
If you or a loved one has been harmed in an auto accident due to someone else's negligence, it is critical that you understand your rights, including your right to financial compensation for your injuries and losses. At Liss, Shapero & Mitnick, we take great pride in our commitment to excellence and client service throughout the State of Michigan and Illinois.
We can help you get what you deserve and protect your interests. Call 248-584-1300 Toll Free 1-855-LISS-LAWfor a free consultation today.
Pursuing Full Compensation For Your Injury Claim
Car accidents are not one-size-fits-all. The circumstances of your accident and the nature and extent of your injuries will dictate the strategy your lawyer will take to get you all the compensation you deserve. Our experienced Metro Detroit car accident lawyers handle a wide variety of motor vehicle accident claims, including cases related to:
Commercial vehicle accidents
Motorcycle accidents
Pedestrian/bicycle accidents
Distracted driving and drunk driving
Uninsured and underinsured coverage
No-fault insurance benefits
How To Deal With Your Insurance Company
What To Do After A Car Accident
Recovering Lost Wages After A Car Accident
Paying Medical Bills After A Car Accident
Common Car Accident Injuries
We make sure to get a full accounting of your injuries, so that we can pursue full compensation for your current and future costs related to:
Medical expenses
Rehabilitation costs
Pain and suffering
Lost wages
As experienced car accident lawyers, we understand that there may be several avenues of compensation available to you, depending on the details of your accident. Don't assume that one denied insurance claim is the end of the story.
If you have been hurt in an accident, you need to seek help. You do not need to be afraid of missing work or dealing with insurance companies. We will make sure all of your issues are handled properly and efficiently so you can make a full recovery and get back to living your life.
We Fight For You In Or Out Of The Court
Our Berkley attorneys are skilled negotiators, but also have tremendous trial experience. If going to court is in your best interest, we will be your fiercest advocates. Above all, we will put your rights first and do everything we can do to make a difference in your life when you need it most.
To learn more about how we can help you, Contact us today for a free initial consultation. When you hire us to represent you in any personal injury matter, there is no fee unless we recover compensation for you.