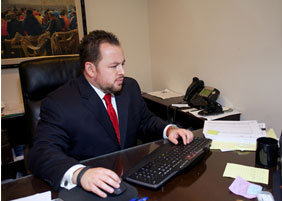 The Kings Of The Road Can Wreak Havoc
When commercial vehicles, such as semi trucks, tractor-trailers, box trucks and delivery vans, collide with other vehicles, the results are often tragic. The weight of these trucks and vans usually far outweighs the weight of the cars they collide with. That means the driver of the car often absorbs the brunt of the damage to both body and vehicle.
At Liss & Shapero, we provide skilled personal injury representation to accident victims throughout Michigan. If you or a loved one has been harmed in an accident involving a commercial vehicle in the Metro Detroit area, call 248-584-1300 or toll free at 1-855-LISS-LAW for a free consultation with our Metro Detroit commercial truck accident attorneys.
Pursuing Full Compensation For Truck Accident Injuries
When truck drivers are negligent, they need to be held accountable for the damage they cause. In many cases, the trucking company may be responsible as well, opening up another avenue of potential compensation. Whether the accident was caused by driver inattention, speeding or an unexpected road condition, we can help you get the resources you need so you can focus on healing instead of fighting insurance companies.
At Liss & Shapero, we pursue personal injury claims to recover the full compensation to which our clients are entitled, for damages such as:
Medical expenses
Pain and suffering
Lost wages
Many of our clients suffer catastrophic injuries, such as spinal cord injuries and brain injuries, leaving them facing significant costs. We make sure to get an accurate, reliable inventory of your injuries so we can pursue the compensation you will need now and in the future. We also handle wrongful death suits related to truck accidents on behalf of surviving family members. No matter what the circumstances of your case, we strive to ensure that any verdict or settlement covers the costs our clients face now and into the future.
Call The Lawyers Who Won't Back Down
Whether face-to-face at the negotiating table or in the courtroom, our lawyers have the experience and skill to take on the commercial trucking companies and their insurers. Our firm also has the financial resources to take claims all the way, handling cases on contingency, which means our clients only pay if they receive compensation.
To learn more about how we can help you recover after a commercial vehicle accident, contact us today for a free consultation.