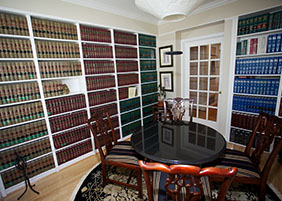 Those Who Look Away From The Road Can Look Forward To A Lawsuit
Driving takes a lot of skill and diligence. Even a momentary distraction can result in an accident, catastrophic injuries and even death. There is no excuse for distracted driving or driving under the influence of drugs and alcohol. Texts can wait. Drug or alcohol-impaired people can call a cab or use a designated driver. But too often, they don't, and the results can be devastating. If you or a loved one has been injured by a distracted driver, a knowledgeable personal injury attorney can help you pursue your rights.
At Liss & Shapero, we provide skilled representation to the victims of distracted driving accidents in the Metro Detroit area and throughout Michigan. We are dedicated to doing everything we can to secure the compensation you deserve. Call 248-584-1300 or toll free at 1-855-LISS-LAW for a free initial consultation with our Oakland County drunk driving accident attorneys.
There Is A Reason Distracted Driving Is Against The Law
It may seem obvious that anything that takes a driver's attention away from the road could lead to an accident. But drivers continue to text, talk on the phone and do other things while driving that could distract them, including:
Eating or drinking
Adjusting the stereo
Looking at a navigation system
Grooming
Texting is a particularly dangerous thing to do while driving, as it requires not only your eyes, but also your hands and your attention as well. As long as drivers continue to text and do other things that distract them from the task of driving, there will be accidents, injuries and heavy costs to pay.
Injured By Someone Else's Distraction? Let Them Pay The Bill.
We are strong advocates for the rights of injury victims, taking on insurance companies to make sure our clients are compensated for damages, including:
Medical expenses
Pain and suffering
Lost wages
We pursue personal injury claims stemming from a variety of distractions, including:
Cellphones
Texting
Laptop computers
Navigation systems
In cases involving drunk driving, we can pursue punitive damages against the drunk driver in addition to compensation through insurance coverage.
Severe Injuries Require Ongoing Treatment
If your injuries are severe — for example, a traumatic brain injury (TBI) or a spinal cord injury — you may need ongoing help in order to make a full recovery. We are strong negotiators and trial attorneys who will make sure that any verdict or settlement covers the true costs of your injuries.
Hire A Lawyer For Distracted Driver Accidents
We can help. Contact us today for a free initial consultation. When you hire us to represent you in any personal injury matter, there is no fee unless we recover compensation for you.