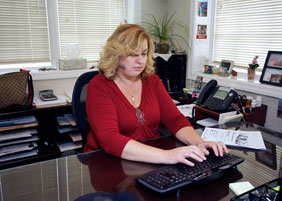 Motorcyclists Are Especially Vulnerable To Negligent Drivers
Motorcycle accidents are grisly, often resulting in life-altering injuries such as brain injuries and spinal cord injuries. These injuries leave motorcyclists facing months, even years, of rehabilitation after undergoing emergency medical treatment that results in a pile of unpaid medical bills. If you've been in a motorcycle accident, the person who caused those injuries is the one who should be paying those bills, not you.
If you or your loved one is going through tough times after a motorcycle accident, you need to seek justice. At Liss & Shapero, our attorneys provide strong advocacy and one-on-one personal service for the victims of motorcycle accidents in Metro Detroit and throughout Michigan. Call 248-584-1300 or toll free at 1-855-LISS-LAW for a free initial consultation with our Oakland County motorcycle accident lawyers.
Seeking Full Compensation For Serious And Fatal Motorcycle Crashes
Because motorcycle accidents can cause such catastrophic injuries, it is especially important that you work with a lawyer who will be relentless in pursuing the maximum compensation for what you've been through. This applies not only to bills you face now, but also to potential long-term costs related to rehabilitation or disability.
Our attorneys do their due diligence to get a clear understanding about what kind of support and resources you will need after your accident. This includes costs related to:
Medical bills
Pain and suffering
Rehabilitation
Lost wages
Disability
There are many ways to obtain compensation after a motorcycle accident, including obtaining no-fault benefits through your own policy and pursuing a personal injury claim against the party responsible for the accident. It is important not to accept an offer from an insurance company until you speak with a lawyer who has experience with these types of cases. Initial offers from insurance companies are usually low, and are intended to tempt you at a time when you might seem to need the money most urgently. Don't fall for it. Talk to us first.
Get A Strong Advocate On Your Side
At Liss & Shapero, we put our negotiation and litigation skills to work for our clients in order to achieve verdicts and settlements that cover present and future costs, including the costs of vocational training, home modifications and in-home care that are needed due to motorcycle accident injuries.
Contact us today to learn more about our practice and how we can help you get the compensation your loved one deserves. We are confident that our expertise in personal injury law can make a difference when you need it most.