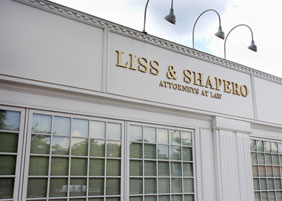 Don't Wait To Get Paid After An Injury
Whether you have been hurt in a car accident, were hit by a car while riding your bicycle or were struck by a falling telephone pole while changing a tire, you do not have to wait at the mercy of a murky claims process to get the benefits you need to cover your medical bills. The no-fault insurance policy that you are required to carry in Michigan will provide you with insurance benefits for your expenses after an accident in the State of Michigan.
Call 248-584-1300 or toll free at 1-855-LISS-LAW for a free initial consultation with the Metro Detroit area no-fault insurance benefits attorneys at Liss & Shapero.
No-Fault Benefits Are Not Optional
Drivers are required to carry no-fault insurance policies, and insurance companies are obligated to provide benefits after an accident, regardless of fault or contributory negligence. Even if you do not own a car, you are still entitled to no-fault insurance benefits if you are injured in an incident involving any sort of motor vehicle, including cars, trucks, motorcycles, buses and boats. At Liss & Shapero, we can make sure you understand your rights to no-fault insurance benefits and other compensation for damages such as:
Medical bills
Pain and suffering
Lost wages
Is your insurance company denying its responsibility to provide benefits? We can help you resolve your insurance dispute. We are committed to client service and are well-respected among our peers in the legal community.
If your automobile accident happened while you were in the course of your employment, notify your employer and make a workman's compensation claim, which will cover your medical bills and a portion of your lost wages. Any excess wage loss over workman's compensation may be claimed against the No Fault insurer.
What Does No-Fault Insurance Cover?
In addition to giving you the immediate injury compensation coverage you need after an accident, no-fault insurance benefits also provide compensation to cover your lost wages. This is critical, as many injury victims are unable to work for weeks or months following a serious accident.
IMMEDIATELY notify the appropriate auto insurance company of your injury, get your CLAIM NUMBER and NO FAULT APPLICATION, fill in the APPLICATION, keep a copy for yourself and return the original to the insurance company.
You are entitled to:
LIFETIME payment of auto related MEDICAL EXPENSES which may be excess over your primary medical insurance
LIFETIME MILEAGE reimbursement to and from your home to medical facilities related to your accident injuries
85% of your before tax WAGES LOST within the first 3 years of your accident, and
$20 per day HOUSEHOLD HELP performed by another due to your injury with in the first 3 years of your accident
If the No-Fault insurer does not pay each day of medical expense, mileage, lost wages and household help, you have one year in which to file a lawsuit to collect that money.
Don't Wait To File A Claim
If you are injured in an accident, you have one year from the date of your accident to file your no-fault insurance claim and all the associated paperwork. If you wait beyond the one-year period, your claim will be denied. Our experienced no-fault insurance attorneys can make sure you file your claim in a complete and timely manner to help ensure you get the maximum possible settlement for your injuries in a timely manner.
Contact A Southfield Lawyer Who Will Put Your Rights First
With more than 80 years of experience and a dedication to providing client service, you can rely on our team of lawyers to make sure you get what you need during a difficult time. Contact us or call 248-584-1300 or toll free at 1-855-LISS-LAW for a free initial consultation with the Oakland County no-fault insurance benefits attorneys at Liss & Shapero.