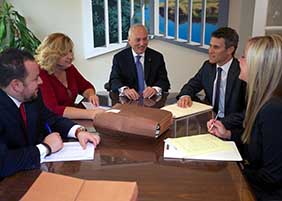 Despite being required by law, not all drivers carry auto insurance. And among those who do, some fail to carry enough insurance to cover the damages they cause in an accident. If you have been hurt by an uninsured driver or a driver without enough insurance, it is in your best interest to speak to an experienced personal injury lawyer about your options.
At Liss & Shapero of Metro Detroit, we treat our clients as family, working as a team to make sure they get the best possible outcome to their situation after an accident. Call 248-584-1300 or toll free at 1-855-LISS-LAW for a free consultation with our uninsured and underinsured driver claim attorneys, serving the metro Detroit area.
How Your Insurance Can Help
If you're the victim of an accident caused by an uninsured or underinsured driver, you may be able to turn to your own auto insurance policy for help recovering costs related to your injuries.
Uninsured And Underinsured Coverage. Uninsured coverage comes into play when someone is involved in an accident with someone who does not have insurance. This is a supplement to auto insurance that covers pain and suffering after an accident. Underinsured coverage provides accident victims with insurance over and above what the at-fault driver's auto insurance policy provides.
Hit-And-Run Injury Representation. If a driver hits you and then speeds away, you may think that your chances of getting compensated have disappeared along with that driver's tail lights. But being hurt by a hit-and-run driver does not mean you have nowhere to turn for help for covering the costs of your injuries and other damages. You can seek assistance through uninsured or underinsured motorist coverage, or the no-fault benefits that are part of your own auto insurance policy.
What If I Don't Have Uninsured/Underinsured Coverage?
If you are injured by an uninsured or underinsured motorist and you max out your own no-fault insurance policy, you will likely need to file a lawsuit against the other driver to try to recoup costs associated with your injuries. Obviously, in a hit-and-run accident where the driver is unknown, this may not be possible. Additionally, a person who doesn't carry car insurance is not likely to have the money to pay your costs. That's why it's so essential for drivers to carry uninsured/underinsured motorist insurance. In any case, if you've been hurt by an uninsured or underinsured driver, it's essential to consult with a lawyer experienced in this area to find out your options.
Contact An Attorney For Uninsured Motorist Coverage
To learn more about how we can help you, contact us today for a free initial consultation. When you hire us to represent you in any personal injury matter, there is no fee unless we recover compensation for you.