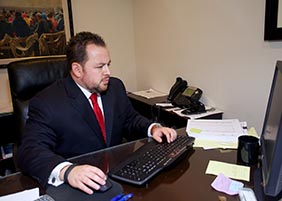 Even a minor car accident can leave you shaken. It may be difficult to think clearly about what to do after a car accident in Michigan, especially because people generally aren't in car accidents all that often. But the steps you take can help your insurance claims proceed more smoothly, and can potentially help you if you need to bring a lawsuit against the other driver.
Safety First
Immediately after an accident, the most important thing is to make sure you're safe. Check to see if you are injured or feel pain anywhere.
If at all possible, move your car to a safer space (out of traffic). If your accident took place on the highway, do not get out of your car, as you could be hit by passing traffic. Turn on your hazards to alert passing traffic.
Report The Accident
Call the police or, if necessary, 911 for emergency assistance. Having the accident on the record can help you later if you need to file a lawsuit. If you don't notify the authorities, there is no record to prove that the accident even happened.
Communicate With The Other Driver
Don't get into a fight, cast blame or say it was all your fault. Check to see if the other driver is okay. Exchange insurance information and contact information. Stay calm and focus on what's next rather than what just happened.
Document The Scene
If you can, take pictures of the damage to the cars, and also of the street where the accident took place. Also take pictures of signs or other landmarks that show where the accident took place. If there are any witnesses, get statements and contact information from them. All this information could be useful in building your case later.
Notify Your Insurance Company Immediately
Call your insurance company to report the accident. Prompt reporting can help hasten your claim. You may also need immediate towing assistance from your insurance company.
See A Doctor
If you have injuries or are experiencing pain after your accident, make sure to see a doctor as soon as possible and explain that you were in a car accident. It is important to go as soon as possible so that any injuries you sustained were a result of the accident, and did not occur or compound as a result of a later incident.
Contact Metro Detroit Car Accident Lawyer
If you anticipate heavy medical bills, if you were in a hit-and-run accident, and/or the person responsible for the accident has no insurance or inadequate insurance, you will need the help of a lawyer to fight for the compensation you deserve. Our attorneys are ready to help you get every penny you need to help you recover from your accident. Call us at 248-584-1300 or toll free at 1-855-LISS-LAW for a free initial consultation in the Metro Detroit area, or use our contact form.