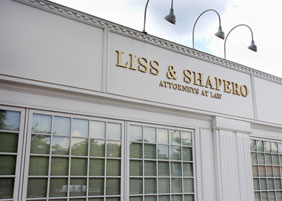 After A Fatal Crash
The loss of a family member is always difficult, no matter the circumstances. But it can be even more agonizing to know that your loved one's fatal accident was entirely preventable. Nothing can bring your family member back, but securing wrongful benefits can help you hold negligent parties accountable, provide a sense of justice and provide for your family's needs.
At Liss & Shapero, we provide compassionate representation to the families of wrongful death victims in Michigan. We are skilled negotiators and litigators who will do everything in our power to make sure our clients get the compensation they deserve. Call us today at 248-584-1300 or toll free 1-855-LISS-LAW for a free consultation.
Experienced Attorneys Representing Families In Royal Oak And Southfield
Why consider a wrongful death claim? While you cannot physically replace what you have lost, a wrongful death claim can help you recover financially and make sure your family has necessary resources in the future. We pursue full compensation for the victims of
wrongful death, including loss of companionship, lost future earnings, and funeral and burial expenses. While a wrongful death due to negligence can happen in many different circumstances, we have considerable experience pursuing claims involving incidents such as:
With more than 80 years of experience and millions of dollars in recoveries, we are confident that our lawyers will make a difference in your life when you and your family need it the most.
Whether you lost your family member in a fatal crash or due to negligence in a care facility, you deserve answers and you deserve justice. To learn more about how we can help, contact us today for a free consultation with our Metro Detroit Personal Injury Representation wrongful death attorneys.